Reservoirs key in averting flood disaster
Share - WeChat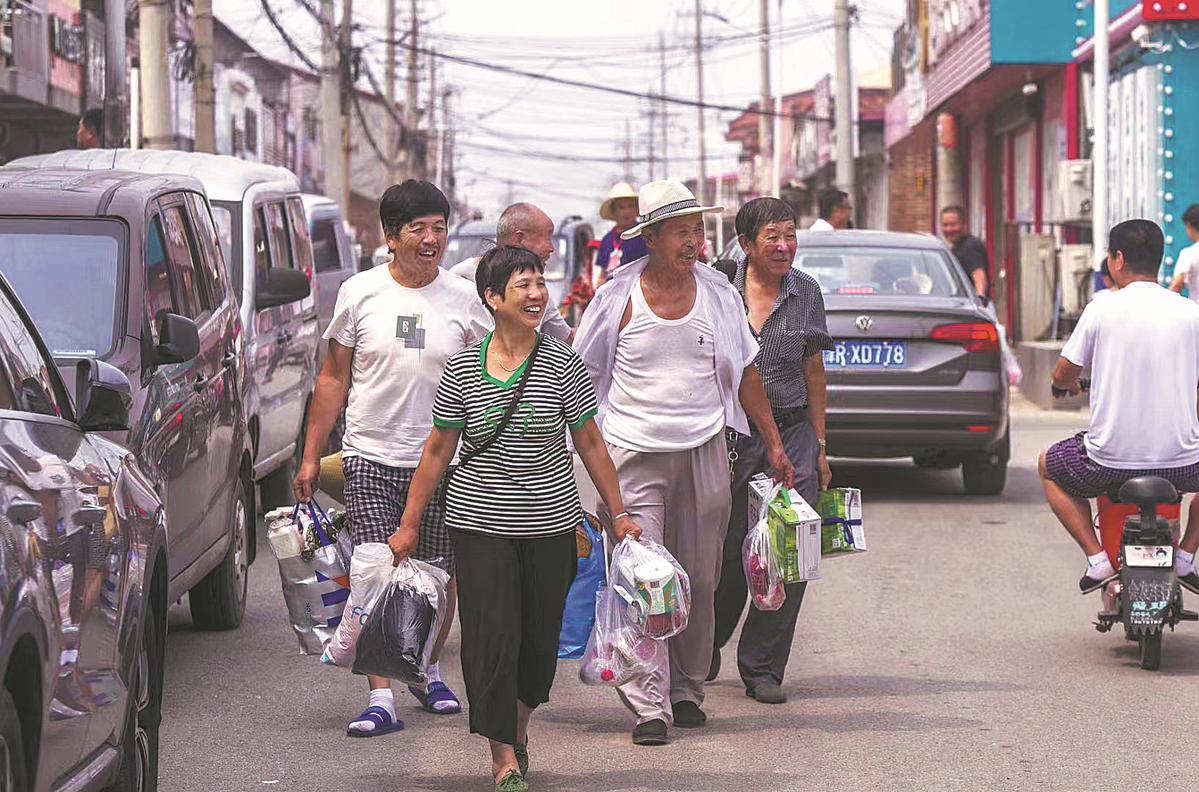 Damage in Beijing-Tianjin-Hebei region could have been a lot worse, officials say
Reservoirs in the Beijing-Tianjin-Hebei region played remarkable roles in alleviating disasters as the most devastating floods in six decades raged across the region in late July and early August, according to the Ministry of Water Resources.
The 84 medium and large-sized reservoirs in the region detained almost 2.9 billion cubic meters of floodwater during the heaviest flooding seen since 1963, Yao Wenguang, director of the ministry's department of flood and drought disaster prevention, said at a news conference on Monday.
This helped protect 24 towns and 500,000 hectares of farmland from being flooded, he said. If it were not for these reservoirs, over 4.6 million additional people would have needed to be evacuated.
"These reservoirs have played significant roles in flood control and disaster mitigation," he said.
Due to the impact from Typhoon Doksuri and cold air, the entire Haihe River Basin, which covers the Beijing-Tianjin-Hebei region, was engulfed by rainfall from July 28 to Aug 1. The average precipitation in the basin reached 155.3 millimeters, according to the ministry.
Beijing, for instance, received 331 mm of rainwater within just 83 hours, which is about 60 percent of its annual average precipitation, the ministry said.
The heavy downpours left 33 people dead and another 18 missing in the capital, and 82,000 people were evacuated, according to Beijing authorities.
The ministry said 22 rivers in the basin swelled above their warning marks, and eight of them experienced the heaviest flooding on record. In response to the devastating floods, the ministry issued an emergency response of Level I, which is the highest under China's four-tier emergency response system.
Liu Weiping, vice-minister of water resources, also highlighted the significant role detention basins played in flood mitigation.
To minimize the losses caused by the floods, the ministry put eight such basins into operation. The detention basins held over 2.5 billion cubic m of floodwater at the peak, he said.
Residents have begun returning to their homes in basin areas as water gradually subsides, according to the ministry.
On Saturday, the water resources and finance ministries disbursed another 500 million yuan ($69 million) to Hebei province and Tianjin to compensate residents in the basins for the losses they suffered.
On Aug 9, the two ministries urgently transferred 1 billion yuan for compensation to the two regions.
All flood damage to residents' crops, livestock, commercial forests, houses and agricultural machinery in the basin will be compensated and local authorities are striving to help them return to normal life, the ministry said.
Qian Feng, deputy head of the information center at the Ministry of Water Resources, said monitoring showed that the rainfall on average increased the levels of shallow groundwater in the Haihe River Basin by about 1 meter and supplemented roughly 8.5 billion cubic meters of groundwater in the basin.
The basin had added a total of roughly 20.6 billion cubic m of groundwater last year, he said.