Young Chinese reconnect with historical city through 'Citywalk'
Share - WeChat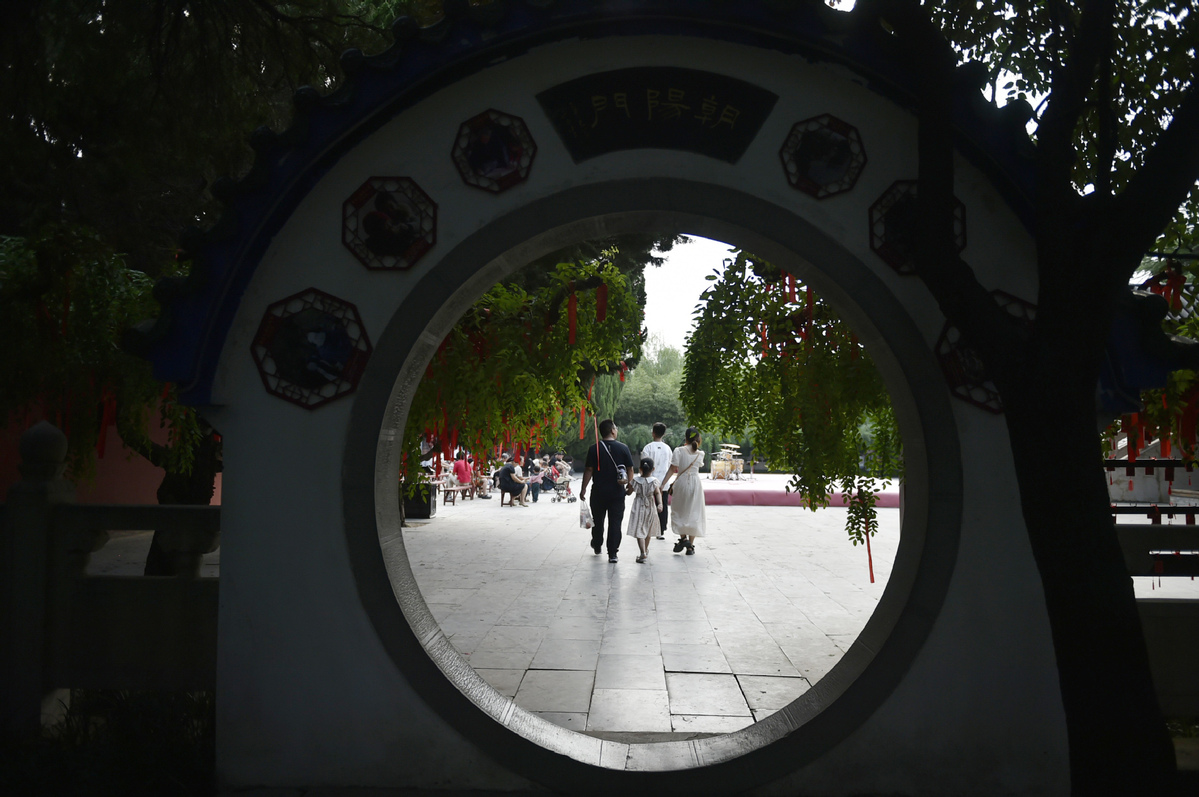 Over the summer break, a wave of fashionably dressed young people flocked to Kaifeng in Central China's Henan province to explore the city that was the ancient capital of eight dynasties through a trendy "Citywalk"
They eagerly shared fresh perspectives and travel encounters on various social media platforms, adding new layers of appreciation to the city's rich tapestry.
"Citywalk," or meandering through the urban landscapes, means the act of walking freely along city streets unburdened by exhaustive plans and cumbersome bags. Such a convenient form of travel has emerged as a prevailing trend among young people in China, offering them an avenue to intimately experience urban culture and local traditions.
Nestled in the eastern expanse of Henan and along the southern banks of the Yellow River, Kaifeng's historical roots extend over two millennia.
"Kaifeng is one of China's first national historical and cultural cities, boasting a deep-seated cultural heritage. It's an ideal destination for unhurried exploration, encouraging visitors to take a leisurely pace as they step into Kaifeng's embrace," said Wei Peishi, head of the city's cultural, radio, film and tourism bureau.
After appreciating the bustling ambiance of the Gulou business district, a tranquil shift awaits on Shengchanhou Street where blue bricks, grey tiles and stone pathways form an aesthetic canvas.
Tucked away on the street's northern flank lies the "A Beam of Light" bookstore warmly welcoming book lovers with its eclectic collection and captivating aura featuring calligraphy, paintings and inscriptions.
"During the Song Dynasty (960-1279), Kaifeng thrived with a blossoming commodity economy and vibrant cultural interactions, leading to the rapid growth of bookstores," said Zhou Bing, who runs the bookstore.
"Our aim behind selecting this location is to offer customers a glimpse of the historical era, allowing them to delve into the rich legacy of the Song Dynasty," Zhou added.
The Fuxingfang Block, where Shengchanhou Street is located, is home to more than 10 streets, 163 courtyards, six cultural relics protection units and over 30 historical buildings.
"In recent years, we've undertaken a revitalization drive, transforming aging blocks into a cohesive hub of historical and cultural significance integrating daily life, work and travel," said Xu Wenqiang, who works for the Xiangguo Temple Street in Gulou District.
"The dilapidated streets and alleys have been infused with new life through renovation, and an array of bookstores, studios, traditional handicraft workshops and art galleries have opened here," Xu said.
As evening descends, Kaifeng's streets transform into a vibrant snack market, with numerous trucks orderly parked. Amidst a medley of enticing aromas and lively vendor calls, visitors can be seen savoring various snacks and delicacies.
"The essence of Kaifeng's cultural tourism lies in the profound culture of the Song Dynasty. Through cultural tourism products with different themes, including architecture, cuisine and opera, we aim to help visitors gain a deeper appreciation of Kaifeng's history and heritage," Wei said.